This is a guest post by Jessica of RomePhotoBlog

Through my photography and blog on Rome, I aim to open up the city to viewers from all over the world, shooting both the known and unknown. It was through shooting for my blog that about six months ago I became invested in learning more about the Roman street art scene. Though I've lived here now for four years and have always noticed the stickers, posters, and stencils that mark the city, these past six months have made me realize how much talent Rome has to offer, which sparked my interest in beginning to document it photographically.

As one street artist said to me "there's so much world class art here in Rome that people forget about what's happening in the street." And while Rome might not be L.A. or London or Berlin just yet, there is a thriving group of artists working hard to bring Rome up to that level. Of course there are some, such as the very talented Sten and Lex, who have been showing in galleries in London and abroad, but I'd like to use this opportunity to feature some other artists currently working in Rome. To be honest it's a difficult selection and by no means a complete one. In fact, there are so many interesting and talented artists that I can't include them all, but it's a start.

I should say that finding street art in Rome can be difficult for visitors, as you won't find it very much in the normal tourist centers. Street art exists in islands here, mostly in the neighborhoods of Trastevere, San Lorenzo, and Pigneto, as well as near the various train stations. One stop in the historic center to start you off is the MondoPop Gallery near the Spanish Steps, which regularly features exhibits by international and Roman street artists.

We'll begin with JBRock, who started off as a writer in the 90s and, along with Diamond, helped kick off an era of poster and stencil art in Rome in 2002 with the TTS crew. This hand painted poster with stencil background is a few years old, but isn't in bad shape. It's located on the underpass leading into San Lorenzo from Porta Maggiore and depicts the Roman actor Aldo Fabrizzi.



Poster paste-ups are one of the main modes of expression in Rome. This paste-up in Trastevere shows some of the more prolific artists in Rome, from the left we have UNO (who always uses the Kinder model in his work), Alt97 (known for her Russian dolls), and Alias (who is from Berlin, but hey, he's in the shot).



# is known for his Japanese-style hand-painted posters. This one, unfortunately photographed after several weeks of being pasted up still gives a sense of the quality that goes into his work.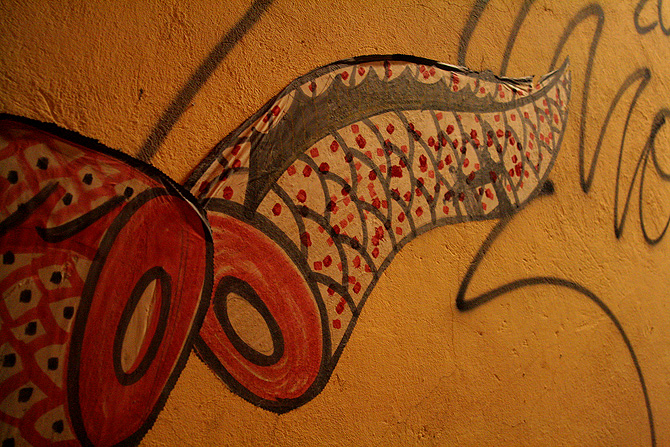 It's impossible to talk about stencils in Rome without citing Hogre, probably the first artist I took notice of because his stencils are found everywhere in the city. His pieces have a certain sense of irony about them. The guy picking his nose? The translation reads "Search inside yourself."



Lucamaleonte, once part of the TTS crew with JBRock, shares a studio with Sten and Lex in San Lorenzo and cuts amazing multi-layer stencils. He studied restoration here in Rome, which you can see in the classical influence of his work. This is one of his newest pieces done at the centro sociale Strike (via Partini 21 – Tiburtina), which is another hub of street art in Rome. (Photo courtesy of Alt97)



Collaborations are also yielding interesting results. This enormous poster (8 feet tall) featuring a Madonna and Child is a collaboration between artists Mr. Klevra and Omino71 with banners written by writer Mister G. Examples of their individual styles can be seen below (Mr. Klevra left, Omino71 right). The piece was pasted as part of an open-air exhibition to end Versus2009, a series of shows that pushed Italian streets artists to plan exhibits in tandem.



Tastes of Roman street art can be found in the US, with many artists participating in group shows on the other side of the Atlantic. Coming up Omino71 and Mr. Klevra have contributed pieces to Urban Decay, opening August 14 at Studio D (8537 Greenwood Ave) in Seattle, WA.

September 11-25, I'll be showing more pieces from my photo reportage with Omino71 and Mr.Klevra here in Rome at Hobo Art Club (via Ascoli Piceno 3).

Unless noted, all photos by Jessica Stewart (RomePhotoBlog).